DREAM TEAM.
SEASON 20|20 YEARS.
NBA DRAFT EDITION.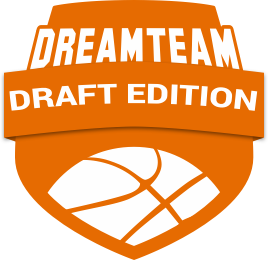 your draft. your league. your rules.
YOUR DRAFT. YOUR LEAGUE. YOUR RULES.
DREAM TEAM - NBA. DRAFT EDITION.
Welcome to Dream Team Draft - celebrating 20 years of Dream Team! Australia's original draft-style competition is simple to play, yet feature-packed and completely customisable. Setup a league and play your way. You set the season length, selection and trading rules, plus much more!

Join an existing draft league, or simply create one with our most popular settings. Or, invite mates and create your very own custom league and competition. During the nail-biting LIVE draft, take turns with your league competitors to pick your team - where each player is available once. Play in up to 5 leagues with 5 different teams!
SIMPLE TO PLAY. ANYWHERE. ANY DEVICE.
1. Join a league, or create a custom league and invite your mates. Set your pre-draft list.

2. Take part in the LIVE DRAFT to pick your team in your own league, one player at a time.

3. Set your line-up each week, pick up free agents from the waiver wire and trade direct with others.

Perfectly designed to play on your desktop or tablet. Play on-the-go on your mobile. Grab the all-new Sportsdeck app - 12+ sports, 25+ competitions, one app (to play them all)...
YOUR ONE-STOP FANTASY NETWORK.
Sportsdeck.com by VirtualSports is Australasia's most comprehensive fantasy sports network. Daily Fantasy Sports, season-long salary cap games, draft-style leagues, tipping & pick-em, comprehensive projection tools and historical data - your one and only stop!

In 2020, we present:
- Dream Team - the original fantasy sports brand you can trust.
- 25+ individual games and competitions.
- 12+ national and international sports and leagues.


Seal Of Quality